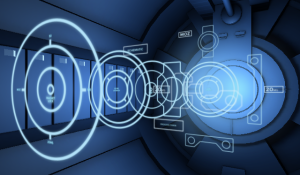 The MozVR team at Mozilla released an open source framework in December 2015 called A-Frame. With A-Frame you'll be able to create 3D and virtual reality experiences on the web. A-Frame works on desktop, mobile and the Oculus Rift Virtual Reality headset. Through the combination of HTML and javascript, this framework allows web developers to create Virtual Reality websites.
The examples on their website are reminiscent of the look of Second Life. For text based websites it doesn't make much sense to create a VR website. E-commerce websites that sell clothing, vehicles or basically any type of product could present their product to both regular web users and VR users. This type of presentation could give users a great 360 degree view of a company's product. This could be a very useful tool for the real estate industry, imagine taking a virtual reality tour through a home. There are companies developing VR experiences for Real Estate, but they are in their early stages of development.
It's interesting to think about possible hybrid websites that could have an experience for regular website visitors and then a option for a more enhanced VR experience for the Virtual Reality crowd.
A-Frame works only with Firefox or Chrome currently.
When viewing on a mobile device, move your phone to look around or touch and drag to change your view.
Click here to view A-Frame MozVR examples.
Visit the A-Frame website for more information.