Sherlock TV Series Review – Watch and you'll be addicted
|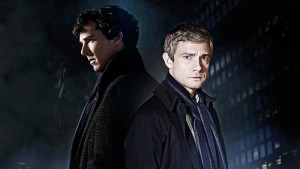 Sherlock is a modern retelling of the classic stories of Sir Arthur Conan Doyle's Sherlock Holmes. Each episode of the series feels like you are watching a movie. The show's stars are Benedict Cumberbatch as Sherlock Holmes and Martin Freeman as Doctor John Watson. Only 10 episodes of the series have been produced so far. Each season contains 3 episodes, each one clocking in at 90 minutes. The unique take on a modern day Sherlock Holmes has been expertly executed. Seeing modern technology used in the story lines give the show a modern feel and help you connect with these characters on a whole new level. You must give this show a look, you will get hooked and probably binge watch all 10 episodes. Benedict Cumberbatch is brilliant as Sherlock Holmes. He captures the high intelligence and enigmatic quality of the character very well. Benedict Cumberbatch read every Sherlock Holmes story in preparation for his role as Sherlock. Martin Freeman is great as Watson and is the perfect counterpoint to Sherlock.
If you watch just one episode of Sherlock you'll be addicted and have to watch the next episode. This show tops my list of the best TV Series ever.
You can catch up on Sherlock by watching the show on Netflix. Click here to learn more about the show.
Series 4 of the show is filming in April 2016 and will debut in 2017.
Watch the Trailer for Season 1 below:
Sherlock TV Series Review
Acting

Cinematography

Writing