Which Crowdfunding website is best for you?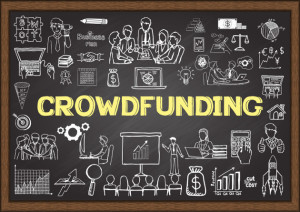 Choosing the best crowdfunding website depends on what you are raising money for. Let's take a look at what each of the top 3 sites has to offer:

Gofundme.com – this crowdfunding site allows you to raise money on everything from personal fundraisers to a new business idea.  There are a wide range of crowdfunded campaigns that range from assisting someone in need of medical treatment, funding your own book or starting your own charity. The best thing about gofundme.com that sets it apart from the other crowdfunding sites is that as you raise money towards your goal you are able to withdraw money at anytime and you don't lose anything if you don't reach the goal amount on your campaign. This is very helpful if you are in need of money to get your project started. It has a very easy to use interface and it's great to see the comments of donors as they encourage you on your goals.

Kickstarter.com – this site is probably one of the most well known crowdfunding sites. Kickstarter does not allow personal fundraising and instead focuses on creative projects. Everything from books to ideas for the next app can be funded through a Kickstarter campaign. Unlike Gofundme.com which allows for the withdrawal of funds during the course of fundraising, Kickstarter is all or nothing. If you don't meet your goal then you get nothing. Your supporters aren't charged until the funding goal is met. This seems like a counterintuitive way to raise money. If you were to raise $8,000 out of a $10,000 goal, you would feel tempted to pay the remaining $2,000 to insure the funding goal. This isn't how real world fundraisers work. 

Indiegogo.com – this site has similar features of both gofundme.com and kickstarter.com for funding but they also have connections to manufacturing and fulfillment support through partnerships with companies such as Amazon and Brookstone. Seems to me like the perfect match for the would-be entrepreneurs of the world. Indiegogo is more flexible than Kickstarter and offers the following 2 types of crowdfunding:
Flexible Funding
Keep all contributions even if you don't meet your campaign goal! Flexible Funding is often a great fit if you don't have a strict go/no-go funding minimum.
Fixed Funding
All contributions are returned if you don't meet your goal. Fixed goals can help give you some extra peace of mind about meeting your manufacturing targets.
In conclusion, I would recommend Gofundme.com for smaller personal projects and Indiegogo.com for projects that are consumer focused products that will need the assistance of the big guys to help get your product to market. Indiegogo now has fundraising for non-profits and social causes through their new site generosity by Indiegogo. 
Now idea or cause is too small or too big. The crowd is waiting to fund you now.
About The Author
Dan Cote
Drummer of the Reverse Engineers, Lyricist, Split Second Records Founder, Web Designer, Sci-Fi Geek.